Reclaimed Wood Office Desk
Gather Reclaimed Wood
Reclaimed wood has a surface and patina almost impossible to re-create. The good news is that one person's junk is another's treasure. If you know someone doing a major renovation on an older house, chances are you can find 2×6 rafters or 2×8 floor joists ready to be saved from the landfill. Architectural salvage and rural antique shops are also good sources for reclaimed wood.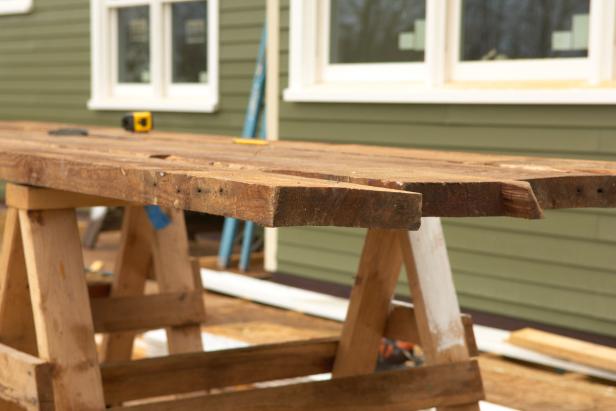 Prepare Top Planks
Before starting, you need to be totally sure the wood is dry. Material that has sat on a job site will likely have high interior moisture levels from rain. If the material immediately came out of a conditioned space, chances are it is dry enough to use. Remember that if you are using floor joists, they existed in a space subject to high moisture levels (crawlspaces). When you move moist wood to inside your house, it will dry out. This is not something you want after the table is done. The best way to dry your reclaimed wood is with a kiln. A local mill might be willing to dry the wood for you. Another option is to store the wood inside during the winter. In a house with forced-air heating, the air movement, low winter humidity and heat will dry the wood for you. If time is not on your side and you are not confident in the dryness of the wood, it can be stacked in a hot dry place with 1″ spacers between layers.
Assemble the Top
Set biscuit joiner depth to #20. Lay the four best planks out on a flat surface and arrange them in final position. With a pencil and working across two boards at a time, make a mark at every 8″ point along the seam of two boards. After marks are made, use the joiner to cut the biscuit slots at each location. Align the reference mark on the tool (similar to circular saw) and hold the top plate firmly flat against the board. In one smooth motion, plunge the tool until it hits the stop.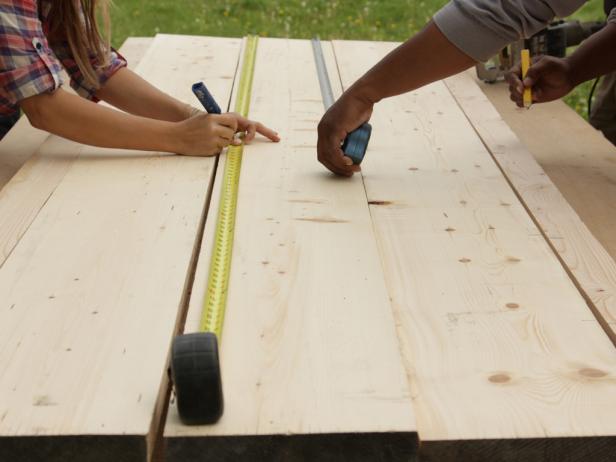 Finish the Top
Once the legs are secured, rip down a reclaimed 1x (or additional 2x) for edge banding to cover the end grain. Do this for the two end sides with a square cut. Glue and shoot on with 15-gauge finish nails. Sand the top or leave as-is. To accentuate the existing wood tone, apply a clear furniture wax or polyurethane.